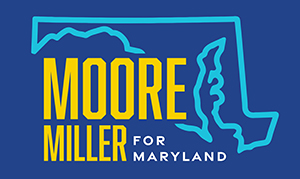 FOR IMMEDIATE RELEASE
Contact: [email protected]
Jan. 12, 2022
Wes Moore Unveils Plan To Build a Cleaner, More Prosperous Maryland
Comprehensive plan outlines how combating climate change will bring relief to Maryland families, drive economic growth and equitably create tens of thousands of new jobs for Marylanders
Leaders across Maryland laud Moore's vision and comprehensive policy framework to address climate change
BALTIMORE (Jan. 12, 2022) – Today, Democratic candidate for Maryland Governor, Wes Moore, and his running mate, former Delegate Aruna Miller, unveiled an innovative and comprehensive plan to expand economic opportunity in our state by taking bold action on climate change. The Moore-Miller plan will combat climate change holistically and ensure that all Marylanders benefit from the work, wages and wealth generated in Marland's green economy.
Moore and Miller recognize that combating climate change is not only key to breaking down disparities and improving the health and well-being of all Marylanders, but it is also essential to securing our economic future. The plan includes commitments to generate 100% clean energy by 2035, protect our environmental assets like the Chesapeake Bay and other waterways, combat the pollution that disproportionately burdens low-income communities and people of color, as well as to appoint a Chief Sustainability, Mitigation, and Resilience Officer to ensure coordination, accountability and enforcement of these goals. Additionally, Moore and Miller are committed to bringing organized labor, businesses and training providers together to create green apprenticeship programs that lead to quality, green careers so communities that have been impacted the most by climate change benefit from this work and are not harmed in the new economy.
"Climate change poses an existential threat and its increasingly severe effects are costing us billions of dollars, harming our communities, and jeopardizing our futures," said Wes Moore. "As Governor, I will take immediate action and ensure that Maryland is re-established as the national leader we should be. That means setting aggressive targets with implementable policies as well as clear enforcement and accountability measures, creating thousands of jobs and lifting Marylanders up in every corner of the state in the process."
Moore's running mate, former delegate and civil engineer Aruna Miller, emphasized the need to prioritize sustainable building even when addressing the state's urgent infrastructure needs like expanding public transit.
"I have been a staunch fighter for Maryland's environment my entire career as a state delegate and transportation engineer." Miller said. "That's why I'm so proud of our comprehensive plan for Maryland's climate that focuses on real ways to improve the lives of Maryland's families while rightfully re-establishing Maryland as a national leader."
Wes Moore and Aruna Miller have proven their ability to bring stakeholders together to solve complex challenges. The Moore-Miller Administration will employ an entire-government approach, bringing government agencies, climate experts, our world-class universities, businesses, entrepreneurs and community stakeholders together to set aggressive and achievable targets with implementable policies.
Former Maryland Governor and Prince George's County Executive Parris Glendening, who has endorsed Wes Moore's candidacy for Governor, shared his support for the plan that he said would build on his progress putting Maryland on the path to net-zero emissions.
"As Governor, I fought to secure a clean energy future for Maryland and there's no one I trust more than Wes Moore to continue the fight," Glendening said. "I know what this job takes and I know that under Wes' leadership, Maryland will once again lead the nation in combating climate change and his comprehensive plan illustrates Wes' commitment to fight climate change and create economic opportunities aggressively and equitably."
Glendening is the only former Governor to endorse in the crowded Democratic primary field and the highest profile official in Maryland to endorse in the Democratic field this cycle.
"Anne Arundel County has been on the front lines of the climate crisis. We have seen firsthand the damage that rising sea levels, flooding, and other extreme climate events pose to thousands of residents in our county and across the state." said Anne Arundel County Executive Steuart Pittman. "I endorsed Wes standing on the shore of the Chesapeake Bay because I know it is one of Maryland's greatest natural resources and without action we are jeopardizing its future. I know he will be the partner we need leading this fight in Annapolis, and his comprehensive plan has only affirmed my belief that he is the best candidate to lead our state as Governor."
"Maryland deserves a governor who understands environmental inequities and how the burdens of climate change fall most heavily on low-income communities. Wes' plan meets people where they are: addressing access to public transit, lowering emissions, improving health outcomes in low-income communities and communities of color, and reducing air pollution," said Baltimore City Councilmember Mark Conway (District 1). "Wes understands that addressing climate change equitably and holistically means addressing disparities head-on. This plan leaves no doubt: communities dealing with the impacts of pollution and extremes of climate change will have a champion in Annapolis when Wes Moore is elected governor."
"My father, former U.S. Senator Joe Tydings, spent decades of his life fighting to protect Maryland's environmental treasures, particularly the Chesapeake Bay," Campaign Treasurer Mary Tydings said. "As a resident of the Eastern Shore, I know Wes is the leader we need to preserve and improve Maryland's environment. This comprehensive plan addressing near-term environmental challenges and the increasingly imminent threats from climate change reflect Wes Moore's firm commitment, competence and vision to help every family in Maryland."
"The people who pay the greatest cost for inaction on climate change are the communities that are left to deal with the impacts of legacy polluters all on their own," said Ruth Ann Norton, a leading local nonprofit leader focusing on green and healthy homes. "Wes Moores' plan recognizes that inaction on climate degrades our housing stock, poisons our communities and damages the environment. Maryland needs a leader who understands that our climate goals are inextricably linked to the health outcomes for our most vulnerable populations. Wes Moore is that leader."
The plan is the latest in a string of comprehensive policy frameworks announced by Wes Moore's Campaign, joining a plan to unlock economic opportunity for Maryland's Black families, an economic plan to increase work, wages, and wealth for every family in Maryland, and an action plan to support Marylanders during the surge of COVID cases.
Moore's rapidly growing coalition includes endorsements from former Maryland Governor and Prince George's County Executive Parris Glendening; Maryland Democratic Party Michael Cryor and Susie Turnbull; VoteVetsPAC, one of the top veterans advocacy organizations in the country; The Baltimore Fire Officers Union Local 964; Anne Arundel County Executive Steuart Pittman; Sen. Obie Patterson (District 27); Sen. Delores Kelley (District 10); Montgomery County Councilmember Will Jawando (At Large); Sen. Cheryl Kagan (District 17); Del. Kumar Barve (District 17); Del. Lisa Belcastro (District 11); Del. Anne Kaiser (District 14); Baltimore City Councilmembers Zeke Cohen (District 1); Mark Conway (District 4); James Torrence (District 7); John Bullock (District 9); Phylicia Porter (District 10); Eric Costello (District 11); Robert Stokes (District 12); Odette Ramos (District 14); Sen. Antonio Hayes (District 40); and Delegates Marlon Amprey (District 40); Frank Conaway, Jr. (District 40); Melissa Wells (District 40); and Stephanie Smith (District 45), who is Chair of the Baltimore City Delegation.
-30-