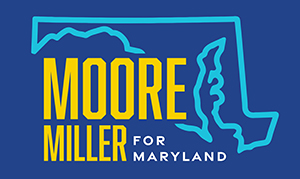 FOR IMMEDIATE RELEASE
Contact: [email protected]
Dec. 29, 2021
Wes Moore outlines immediate steps to support Maryland working families and combat COVID-19 amid rapidly-spreading Omicron variant
Moore urges Governor Hogan to take immediate action, calls for $500 one-time cash assistance for working families
Moore's plan includes increasing access to COVID tests, partnering with community organizations to increase vaccination rates and provide relief to Maryland families in need
BALTIMORE (Dec. 29, 2021) — Today, Democratic candidate for Maryland Governor Wes Moore called on Governor Hogan to take immediate action to combat the COVID-19 pandemic.
This announcement comes as Maryland's COVID-19 positivity rate has more than doubled over the past two weeks, vaccination rates remain low in many regions of the state, hospitals are reaching capacity, and Marylanders in every corner of the state are struggling to locate COVID tests to keep themselves and their families safe during the holiday season.
Today, Maryland saw a staggering 10,873 COVID cases, a record for new hospitalizations at 2,046, and a positivity rate of nearly 20 percent.
Maryland's unemployment rate continues to sit well-above the national average and 39 percent of Maryland households may be experiencing food insecurity.
Moore recognizes that the only way to get through this pandemic is to work closely with and rely on the expertise of public health experts and local elected and community leaders. Moore is calling on Governor Hogan to dramatically increase testing capacity and ensure that every Marylander has access to free at-home rapid tests when they need them, especially low-income communities that have suffered the most. Governor Hogan should immediately work with community organizations to stand up local testing sites and vaccine clinics, leveraging Maryland's National Guard to provide staffing support. To support hardworking families, Moore urges the governor to issue a one-time stipend to help cover rising costs of groceries and the high cost of child care that is pushing Marylanders out of the workforce.
"Over the past several weeks, we have seen this new variant wreak havoc on Maryland families and worsen the already severe health and economic effects of this pandemic, and we need real leadership to navigate this pandemic in the coming weeks" said Wes Moore. "The testing shortages we have seen during this holiday season are preventing Marylanders everywhere from taking essential precautions to keep themselves, their families and their communities safe. As governor, I will be prepared to lead on day one and work to get this pandemic behind us."
From his service leading troops in Afghanistan, to his experience in the private sector as a business owner, to his leadership of one of the largest anti-poverty organizations in the country, Moore has the experience to lead Maryland through this pandemic and build stronger communities in every region of the state. He has a proven track record of working collaboratively with state and local leaders, community organizations, and private funders to support workers to multiply impact, connect people with opportunities and higher wages and improve the quality of life for communities. That is exactly the type of leadership that Wes Moore will demonstrate as Maryland's next governor.
Moore urges Governor Hogan to take the following actions to combat COVID-19 and the latest Omicron variant:
Leverage federal funding to issue a one-time stipend of $500 to hardworking Maryland families to assist with the rising cost of groceries and high cost of child care that is preventing Marylanders from getting back to work.
Immediately procure enough COVID-19 tests, including at-home rapid tests, that can be distributed to every Maryland community, especially low-income communities and communities with high transmission rates.
Ensure that the state retains a reserve of COVID-19 tests and PPE that can be deployed in the event of another future surge.
Partner with community organizations to host testing and mobile vaccination events in every Maryland community leveraging staffing support from the Maryland National Guard and reduce the burden on health care heroes.
Improve communication with local health departments and streamline and create uniformity in data collection, reporting and cybersecurity across the state.
Provide additional support to local health departments so that COVID testing results can be communicated quickly.
Work directly with local health departments, community organizations, faith leaders and other community leaders to dramatically increase vaccination rates in regions with low vaccination rates.
Leverage federal funds to ensure that every Marylander, including those who work in small or micro businesses, has access to at least 40 hours of paid sick leave so that they can stay home if they test positive for COVID and still feed their families.
Moore's rapidly growing coalition includes endorsements from former Maryland Governor and Prince George's County Executive Parris Glendening; Maryland Democratic Party Michael Cryor and Susie Turnbull; VoteVetsPAC, one of the top veterans advocacy organizations in the country; The Baltimore Fire Officers Union Local 964; Anne Arundel County Executive Steuart Pittman; Sen. Obie Patterson (District 27); Sen. Delores Kelley (District 10); Montgomery County Councilmember Will Jawando (At Large); Sen. Cheryl Kagan (District 17); Del. Kumar Barve (District 17); Del. Lisa Belcastro (District 11); Baltimore City Councilmembers Zeke Cohen (District 1); Mark Conway (District 4); James Torrence (District 7); John Bullock (District 9); Phylicia Porter (District 10); Eric Costello (District 11); Robert Stokes (District 12); Odette Ramos (District 14); Sen. Antonio Hayes (District 40); and Delegates Marlon Amprey (District 40); Frank Conaway, Jr. (District 40); Melissa Wells (District 40); and Stephanie Smith (District 45), who is Chair of the Baltimore City Delegation.
-30-