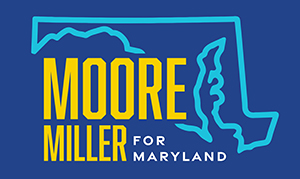 FOR IMMEDIATE RELEASE
Contact: [email protected]
Jan. 13, 2022
Wes Moore raises record-breaking $4.8 million in race for Maryland Governor
Moore's fundraising cements his standing as a frontrunner for the Democratic nomination for Governor
The unprecedented haul for a first-time candidate demonstrates the unrivaled enthusiasm for Moore's candidacy and builds on the mounting momentum for Moore's campaign
BALTIMORE (Jan. 13, 2022) – Wes Moore's campaign announced today that it has raised a record-breaking $4.8 million in the race for Governor. Moore, who entered the race as a first time candidate in June 2021 with no cash on hand, has demonstrated the unrivaled enthusiasm for his candidacy with the unprecedented haul in a crowded field. He now ends his first seven months of candidacy with over $3.1 million on hand.
The $4.8 million fundraising total represents the most money raised by a first-time candidate in Maryland history at this point in the cycle. It is more than three times the highest total disclosed at this fundraising deadline four years ago.
"I am so humbled by the grassroots Army of supporters we have seen grow so quickly, drawn to our vision of increased work, wages, and wealth for every Maryland family," Wes Moore said. "We have a lot of work to do, but feel confident about our ability to share our message and not only win in June, but bring our people-powered movement to Annapolis."
The $4.8 million total, drawn in just seven months, includes over 70 percent of donations $100 and under and donations from all 23 counties in Maryland plus Baltimore City. The Campaign Finance Reports will be filed with the Maryland State Board of Elections on Jan. 19.
"The Moore-Miller coalition is one that has inspired working families in every corner of Maryland," Candidate for Lieutenant Governor Aruna Miller said. "We are so grateful for the grassroots support that this milestone reflects as we work to earn the votes of Marylanders and seize this once in a generation opportunity to uplift every Maryland family."
The Moore-Miller campaign's strong fundraising further bolsters the case that he is the most viable candidate in the field and Democrats' best chance at winning back the Governor's office.
"This may be a crowded field but there is only one campaign with the momentum, the energy, the vision, the path, and now very clearly the resources to win both in June and in November – Wes Moore and Aruna Miller for Maryland," Campaign Manager Ned Miller said.
The show of force comes at a time of great momentum for the campaign and its network of nearly 5,000 volunteers. The announcement follows the release of a string of comprehensive policy frameworks by Wes Moore's Campaign, including a plan to unlock economic opportunity for Maryland's Black families, an economic plan to increase work, wages, and wealth for every family in Maryland, an action plan to support Marylanders during the surge of COVID cases and a plan released just yesterday to build a cleaner, more prosperous Maryland.
Since launching his campaign in June, Moore has earned the endorsements of former Governor and former Prince George's County Executive Parris Glendening; Maryland Democratic Party chairs Michael Cryor and Susie Turnbull; VoteVetsPAC, one of the top veterans advocacy organizations in the country; The Baltimore Fire Officers Union Local 964; Anne Arundel County Executive Steuart Pittman; Sen. Obie Patterson (District 27); Sen. Delores Kelley (District 10); Montgomery County Councilmember Will Jawando (At Large); Sen. Cheryl Kagan (District 17); Del. Kumar Barve (District 17); Del. Anne Kaiser (District 14); Del. Lisa Belcastro (District 11); Baltimore County Council Chairman and Councilmember Julian Jones (District 4), Baltimore City Councilmembers Zeke Cohen (District 1); Mark Conway (District 4); James Torrence (District 7); John Bullock (District 9); Phylicia Porter (District 10); Eric Costello (District 11); Robert Stokes (District 12); Odette Ramos (District 14); Sen. Antonio Hayes (District 40); and Delegates Marlon Amprey (District 40); Frank Conaway, Jr. (District 40); Melissa Wells (District 40); and Stephanie Smith (District 45), who is Chair of the Baltimore City Delegation.
-30-