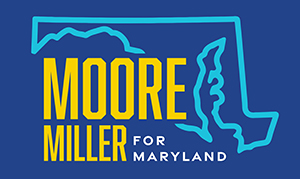 FOR IMMEDIATE RELEASE
Contact: [email protected]
Feb. 1, 2022
Former Baltimore County Executives endorse Wes Moore for Governor in Baltimore Sun editorial
Former Baltimore County Executives Don Mohler and Jim Smith say Moore's deep executive experience uniquely qualifies him to serve as Maryland Governor
Mohler and Smith join the rapidly growing coalition of leaders endorsing the Moore-Miller campaign in the race for Governor
BALTIMORE (Feb. 1, 2022) – In a letter to the Baltimore Sun, former Baltimore County Executives Don Mohler and Jim Smith endorsed Wes Moore in the race for Maryland Governor, joining an expanding coalition of leadership from across the state.
As former County Executives of Baltimore county, both Mohler and Smith served as Chief Executive of the third largest county in Maryland. Their experience in public service and insight into the demands of executive leadership led them to conclude that Wes Moore is uniquely qualified to lead the state as Governor and address the challenges facing Marylanders today.
In their endorsement of Moore, both former County Executives said that Moore has the experience to deliver on his pledge to expand economic opportunities for Marylanders.
"Wes will work tirelessly to ensure that every child in Maryland has access to opportunities and every family has the chance to improve their work, wages and wealth," former County Executives Mohler and Smith wrote in their letter published Jan. 29. "Wes knows that our communities must be safe and secure, and the state must play a significant role in making this happen."
Mohler and Smith also expressed confidence that Wes Moore will work across political divides to deliver meaningful solutions for all Marylanders.
"As county executives, we know there are not Democratic potholes and Republican potholes to fill, Democratic schools and Republican schools to build, Democratic and Republican water main breaks to repair," the men write. "There is simply work to be done and we do that work better when we work together to make a difference."
They add: "We worked hard for communities that supported us and just as hard for those that did not. That is how government should work. And that is exactly the type of governor Wes Moore will be."
Following his endorsement last weekend, former County Executive Mohler today joins Moore as he tours small businesses in Baltimore County.
In endorsing the Moore-Miller campaign, former County Executives Mohler and Smith join Wes Moore and Aruna Miller's rapidly growing coalition of endorsers that include former Governor and former Prince George's County Executive Parris Glendening; Anne Arundel County Executive Steuart Pittman; Sen. Antonio Hayes (District 40); Sen. Cheryl Kagan (District 17); Sen. Delores Kelley (District 10); Sen. Obie Patterson (District 26); Del. Marlon Amprey (District 40); Del. Kumar Barve (District 17); Del. Lisa Belcastro (District 11); Del. Chanel Branch (District 45); Del. Frank Conaway, Jr. (District 40); Del. Anne Kaiser (District 14); Del. and Baltimore City Delegation Chair Stephanie Smith (District 45); Del. Melissa Wells (District 40); Bowie Mayor Pro Tem & Councilmember Adrian Boafo (District 3); Baltimore City Councilmember John Bullock (District 9); Baltimore City Councilmember Zeke Cohen (District 1); Baltimore City Councilmember Mark Conway (District 4); Baltimore City Councilmember Eric Costello (District 11); Montgomery County Councilmember Will Jawando (At Large); Baltimore County Council Chair and Councilmember Julian Jones (District 4); Baltimore City Councilmember Phylicia Porter (District 10); Baltimore City Councilmember Odette Ramos (District 14); Somerset Mayor Jeffrey Slavin; Baltimore City Councilmember Robert Stokes (District 12); Baltimore City Councilmember James Torrence (District 7); former Maryland Democratic Party chairs Michael Cryor and Susie Turnbull; The Baltimore Fire Officers Union Local 964; and VoteVetsPAC, one of the top veterans advocacy organizations in the country.
-30-