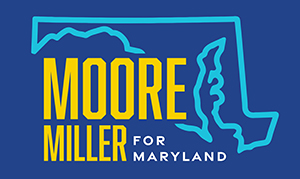 FOR IMMEDIATE RELEASE
Contact: [email protected]
Jan. 13, 2022
Baltimore County Council Chair Julian Jones Jr. Endorses Wes Moore for Governor
Jones, who serves as Chair of the Baltimore County Council, offers a key endorsement
With Jones joining rapidly growing coalition of leaders, Moore momentum continues to mount in race for Governor
RANDALLSTOWN, Md. (Jan. 13, 2022) – Baltimore County Council Chair and 4th District Councilman Julian Jones today endorsed Wes Moore to be the next Governor of Maryland. 
"Baltimore County needs a partner in Annapolis who is focused on the economic development of our community," Jones said. "I share in Wes Moore's vision of increased work, wages, and wealth for Maryland, and I know that he has the experience, the vision, and the ability to make it a reality. I'm proud to endorse Wes Moore for Governor."
Jones, the first African American to chair the Baltimore County Council, was also the first African American to serve as Lieutenant, Captain, Battalion and Division Chief in the Anne Arundel County Fire Department. He formerly served as the President of the Anne Arundel County Chiefs Association and the Anne Arundel County African American Firefighter Association. Jones also served as a member of the Baltimore County Democratic Central Committee from 2010 to 2018 and as a Delegate of the Democratic Party National Convention in 2016.
"Julian Jones has been a pillar of public service in Baltimore County and a champion for the community. Baltimore County will play a major role in the future growth of Maryland and I am excited to partner with Council Chair Jones to build a more inclusive economy for all Marylanders," Moore said. "Whether it's leading the charge on police reform in Baltimore County, fighting for economic development and opportunities in the region, or leading legislation to protect vulnerable populations from housing discrimination, Council Chair Jones is a fighter for his constituents and I'm proud to have his endorsement."
In endorsing Moore, Jones joins former Maryland Governor and Prince George's County Executive Parris Glendening; Maryland Democratic Party Michael Cryor and Susie Turnbull; VoteVetsPAC, one of the top veterans advocacy organizations in the country; The Baltimore Fire Officers Union Local 964; Anne Arundel County Executive Steuart Pittman; Sen. Obie Patterson (District 27); Sen. Delores Kelley (District 10); Montgomery County Councilmember Will Jawando (At Large); Sen. Cheryl Kagan (District 17); Del. Kumar Barve (District 17); Del. Lisa Belcastro (District 11); Del. Anne Kaiser (District 14); Baltimore City Councilmembers Zeke Cohen (District 1); Mark Conway (District 4); James Torrence (District 7); John Bullock (District 9); Phylicia Porter (District 10); Eric Costello (District 11); Robert Stokes (District 12); Odette Ramos (District 14); Sen. Antonio Hayes (District 40); and Delegates Marlon Amprey (District 40); Frank Conaway, Jr. (District 40); Melissa Wells (District 40); and Stephanie Smith (District 45), who is Chair of the Baltimore City Delegation.
-30-