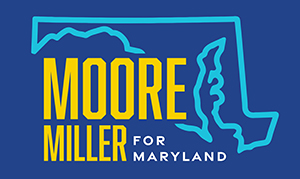 FOR IMMEDIATE RELEASE
Contact: [email protected]
Jan. 6, 2022
Wes Moore Shares Vision For Education at Maryland Democratic Party Candidates Forum
Moore outlines how his experience as a Rhodes Scholar, small business owner, and nonprofit CEO has uniquely prepared him to address longstanding inequities in education
Moore momentum continues through strong performance at Maryland Democratic Party forum
BALTIMORE (Jan. 6, 2022) – Democratic Candidate for Maryland Governor Wes Moore shared his vision for supporting Maryland students last night at the virtual Burgers and Brews Gubernatorial Forum hosted by the Maryland Democratic Party. Viewers participated by watching the livestream on the Maryland Democratic Party's Facebook page.
"I recently spoke with my aunt who was an educator in Prince George's County. And after 37 years, she said, this is the first time that she's actually considering making this year her last because of the enormous stress and pressure that this pandemic has put on it. And I know she's not alone," Moore said in his remarks. "This is an incredibly difficult time for parents and educators, for students and administrators. And right now we need a leader to acknowledge these challenges and bring these groups together to take action. That's how I've always led, and that's how I'll lead as Governor."
At the forum, Moore made clear that he is the candidate who will act decisively to ensure that every child in Maryland receives a world class public education. Moore reaffirmed his commitment to protecting the hard fought gains of the Kirwan Commission and fully funding the Blueprint for Maryland's Future. Moore also pledged to have parents and educators at the table as his administration implements the plan. A Moore-Miller administration would advance and build on the goals articulated in the Blueprint, including funding for tutoring programs, raising teacher pay, pre-K for 3 and 4 year olds in need, and more equitable funding for schools in underserved areas of our state.
Moore brings experience to the race that uniquely qualifies him to close the equity and opportunity gaps in Maryland's schools. As CEO of one of the largest anti-poverty nonprofits in the U.S. Moore helped pioneer innovative and effective models addressing the college completion crisis, including a program that tripled the graduation rate for students at community college, which became a national model. The organization launched a $50 million initiative to provide 50,000 children under 3 access to early childhood education through the Fund for Early Learning. Prior to his tenure as CEO, Moore was the founder and CEO of a small business in Maryland that helped students access and succeed in college.
"Throughout his career, Wes Moore has focused on breaking down barriers to education because he has seen first hand how education can be a bridge to opportunity. Last night, he demonstrated to everyone watching why that experience has distinguished him in the field as the candidate best equipped to address the challenges facing Maryland schools," said his running mate, former Del. Aruna Miller. "I'm proud to be running alongside Wes and I'm looking forward to working with him to ensure every student in Maryland receives a world class public education and every child has a chance to fulfill their potential."
Moore's rapidly growing coalition includes endorsements from former Maryland Governor and Prince George's County Executive Parris Glendening; Maryland Democratic Party Michael Cryor and Susie Turnbull; VoteVetsPAC, one of the top veterans advocacy organizations in the country; The Baltimore Fire Officers Union Local 964; Anne Arundel County Executive Steuart Pittman; Sen. Obie Patterson (District 27); Sen. Delores Kelley (District 10); Montgomery County Councilmember Will Jawando (At Large); Sen. Cheryl Kagan (District 17); Del. Kumar Barve (District 17); Del. Lisa Belcastro (District 11); Baltimore City Councilmembers Zeke Cohen (District 1); Mark Conway (District 4); James Torrence (District 7); John Bullock (District 9); Phylicia Porter (District 10); Eric Costello (District 11); Robert Stokes (District 12); Odette Ramos (District 14); Sen. Antonio Hayes (District 40); and Delegates Marlon Amprey (District 40); Frank Conaway, Jr. (District 40); Melissa Wells (District 40); and Stephanie Smith (District 45), who is Chair of the Baltimore City Delegation.
-30-