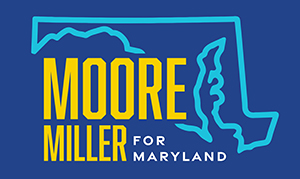 FOR IMMEDIATE RELEASE
Contact: [email protected]
Jan. 13, 2022
Wes Moore closes fundraising cycle with grassroots virtual event with DJ D-Nice
Hundreds of Moore's rapidly growing coalition of supporters tuned into DJ D-Nice's Club Quarantine event
Virtual event reflects inclusive, grassroots operation as first fundraising cycle comes to a close
BALTIMORE (Jan. 12, 2022) –  Wes Moore for Maryland today hosted a virtual New Year's kick off event with DJ D-Nice. The evening brought together a range of supporters representing an inclusive, grassroots operation and remarks from key supporters and special guests. 
"I am so grateful for and humbled by our grassroots supporters and the unparalleled momentum they've contributed to our campaign," Wes Moore said. "We step into this new year carrying this energy forward, growing and mobilizing our coalition, and ultimately winning this race to provide economic opportunity for every family in Maryland."
DJ D-Nice is the host of Club Quarantine, a virtual party on Instagram Live that went viral over the course of the pandemic. Previous guests on Club Quarantine include President Joe Biden, former first lady Michelle Obama, Vice President Kamala Harris, Drake, Oprah Winfrey, and Will Smith.
Nearly 300 supporters tuned in as part of Moore's rapidly growing movement of grassroots supporters, with tickets starting at $5 dollars for students and $25 for young professionals.
The event comes mere hours before the deadline for the first fundraising cycle of the 2022 primary for Maryland Governor.
Over the past weeks, the Moore-Miller campaign has released a string of of comprehensive policy frameworks by Wes Moore's campaign, including a plan to expand economic opportunity in our state by taking bold action on climate change, a plan to unlock economic opportunity for Maryland's Black families, an economic plan to increase work, wages, and wealth for every family in Maryland and an action plan to support Marylanders during the surge of COVID cases.
Moore's rapidly growing coalition includes endorsements from former Maryland Governor and Prince George's County Executive Parris Glendening; Maryland Democratic Party Michael Cryor and Susie Turnbull; VoteVetsPAC, one of the top veterans advocacy organizations in the country; The Baltimore Fire Officers Union Local 964; Anne Arundel County Executive Steuart Pittman; Sen. Obie Patterson (District 27); Sen. Delores Kelley (District 10); Montgomery County Councilmember Will Jawando (At Large); Sen. Cheryl Kagan (District 17); Del. Kumar Barve (District 17); Del. Lisa Belcastro (District 11); Del. Anne Kaiser (District 14); Baltimore City Councilmembers Zeke Cohen (District 1); Mark Conway (District 4); James Torrence (District 7); John Bullock (District 9); Phylicia Porter (District 10); Eric Costello (District 11); Robert Stokes (District 12); Odette Ramos (District 14); Sen. Antonio Hayes (District 40); and Delegates Marlon Amprey (District 40); Frank Conaway, Jr. (District 40); Melissa Wells (District 40); and Stephanie Smith (District 45), who is Chair of the Baltimore City Delegation.
-30-